Auction Houses

Artists´ Supplies

Bookstores

Computers

Fashion

Flea markets

Music

Food

Asian

British

Continental

Jewish

Middle Eastern

Bakeries

Markets

Specialty

Supermarkets

2nd Hand




Try a trip to your local bakery at 7am. The queues for fresh 'Schrippen´ - the Berlin term for 'Brötchen´, or bread rolls, will overwhelm you. Buying fresh produce little and often is the key to success.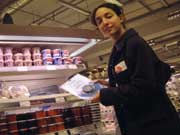 Say farewell to the all-under-one-roof experience, the bountiful aisles, endless deli counter and chirpy, helpful shelf-stackers with 25 varieties of branflakes of your supermarket at home. You may find one or two approximations of it but will never be satisfied if you do not change your food shopping habits. Instead, re-discover the joys of local markets, butchers´ shops, Turkish greengrocers´ and health food stores. For the discriminating home gourmet, Berlin also offers a growing selection of specialty food sources. Check out our tips for finding that elusive, exotic gourmet item. Individual retailers of the type that are sadly disappearing fast across the UK and USA are a treat, once you master the phrases required for ordering your wares. If you are serious about your purchases, you will often be treated with across-the-counter courtesy fast approaching good service, a phenomenon otherwise generally unknown in this city.





top of page

© 1999-2011 Berlin Information Group

anything missing or wrong?