Auction Houses

Artists´ Supplies

Bookstores

Computers

Fashion

Ku´damm

Mitte

Flea markets

Music

Food

2nd Hand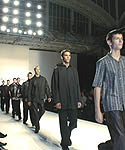 Since the fall of the wall, Berlin has seen an influx of energy and talent which may help it reestablish its former status as an international fashion hot-spot. At the beginning of the 20th Century the Hausvogteiplatz, between Friedrichstr. and Alexanderplatz, was home to some of Europe´s most exclusive designers. But as a centre of the Jewish avant garde, the fashion industry was decimated in the Nazi era.

Today, Berlin fashion is a mixed bag. The last 10 years have seen a blossoming of young designers inspired by the surge in the independent music and club scene which took off in the tenements of former East Berlin immediately after the wall fell. On the other hand the rebirth of Berlin as a world city has seen an influx of major labels and top end department stores. Not to be forgotten, the area around the Ku´damm continues to be a centre for international boutiques as it was when then city was divided.






top of page

© 1999-2011 Berlin Information Group

anything missing or wrong?