Short-term

Luxury

Expensive

Moderate

Budget

Backpacker

Camping

Agencies

Long-term


Browse our reviews and choose a hotel which suits your needs. Having trouble finding the right hotel? - Contact Nethotel´s "Scout Service" and a local expert will locate the room you are looking for.



Boarding House Mitte - Special Offer

www.boarding-house-berlin.de
info@boarding-house-berlin.de
Mulackstraße 1, 10119 Berlin - Mitte | Tel: 28 38 84 88, Fax: 28 38 84 89 | U8 Weinmeister Straße. | Price: single room apartment EUR90-120; double room apartment EUR110-130; attic maisonette EUR130-140 breakfast not included. | Cards: AmEx, EC, MC, V.
map: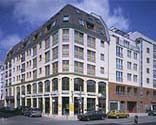 Not a hotel as such, Boarding House Mitte offers only serviced apartments. These provide more comfort and space than a typical hotel room and are particularly good value for those who can take advantage of disounts for bookings of 5 days or more. Located in the trendy Scheunenviertel within posing distance of a wide variety of hip cafes and restaurants, the apartments are fitted out with all mod cons. Services include T.V., video, stereo, kitchen, garage (EUR 8), laundry service (EUR 13 per load), ironing board and iron rental (EUR 8).

Special Offer - Tours in Mitte: The Boarding House prides itself on its position in the heart of Berlin-Mitte, an area which is brimming with cutting edge bars, cafes, boutiques and designers. For guests looking for insider tips on how to get the most out of this intriguing neighborhood, Boarding House facilitates guided tours of Mitte's clubbing and shopping scenes. Book here by email .


Honigmond Pension
honigmond@t-online.de
Borsigstrasse 28, 10115 Berlin - Mitte | Tel: 28 44 55-0, Fax: 28 44 55-11 | U6 Oranienburger Tor/ S1-S2 Nordbahnhof | Rooms: EUR35-100, no breakfast | No credit cards
map:


A down-to-earth and cosy pension, with a rustic touch. Exposed wood floors and white walls keep it simple. Great for families. The restaurant/cafe Honigmond is downstairs and has breakfast from 9am on weekends. Service is friendly. Walking distance from the historic Scheunenviertel. Features: room service, TV, telephone.


Propeller Island City Lodge
map:


If you are looking for something really different, the four rooms in this converted apartment are pretty wild. Artist and musician Lars Stroschen has created each chamber as a sleeping experience from the Crystal Maze-type 'Symbol room' to the Toontown fantasy of the 'Burgzimmer'. Guests can prepare their own meals in the equally wacky kitchens or, if booked in advance, there is an 'aphrodisiac menu'(!) dinner available which will be specially cooked for you. Ideal for two couples travelling together as each pair of rooms shares a bathroom/WC and kitchen which is pretty much self-contained. There is no TV or phone in the rooms to disturb your enjoyment and the owner requires cash payment in advance as well as EUR50 key deposit. Far out!




top of page

© 1999-2011 Berlin Information Group

anything missing or wrong?