Auction Houses

Artists´ Supplies

Bookstores

Computers

Fashion

Flea markets

Music

Food

2nd Hand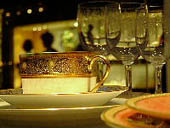 Berlin may not be a shopper's paradise, but it can certainly offer even the most hard-core power-shoppers (whether from Milano, Beverly Hills, or Tokyo) a run for their money.
From the nouveau-ritzy consumer Quartiers of Friedrichstrasse, Potsdamer Platz, or Ku'Damm, to the boutique neighborhoods of hipster Mitte, chic Charlottenburg or the more affluent establishment of Schöneberg, Berlin can almost say it has it all, just not in one place.



Here is BIGs selection for your consumer catharsis: whether penny-pincher, power-shopper, or somewhere in between.




Silvie Kalemba - Personal Styling


Getting the best out of a shopping trip in Berlin isn´t always easy. The different shopping precincts have distinctive styles and the best boutiques are often tucked away in backstreets or quiet courtyards. Newcomers to Berlin (or those wanting to rediscover the city) might look to Silvie Kalemba for a guided tour of Berlin's fashion houses. With over 20 years experience working in top designer boutiques accross Europe, Silvie offers fashion consultancy and personal tours of the best places to shop. She can also provide advice on interior design, or a shopping service for those too busy to shop themselves.




top of page

© 1999-2011 Berlin Information Group

anything missing or wrong?