Classical Music

Cultural Institutions

Galleries

Museums+Collections

Opera

Shows&Exhibitions

Architecture & Planning

Annual events

Berliner 6 Tage Rennen (24th-29th Jan, 2002)
www.sechstagerennen-berlin.de
S-Bhf Landsberger Allee , 10407 Berlin - Prenzlauer Berg | Tel: (tickets) 44 30 44 30, Fax: 44 30 44 39 | S-Bahn Landsberger Allee, Bus 156,257 Landsberger Allee/Petersburger Str., Tram 5,6,8,15,20,27,N55,N92,N93, Nightbus N29 | Venue: Velodrom, Europa-Sport-Park-Berlin | Times: Thurs, Mon 6pm-1am, Fri, Sat 6pm-3pm, Sun 11am-5pm, Tues 6pm-midnight | Prices: DM50-90 (25,26-46,02 Euros) | Alternative website: www.velodrom.de
map: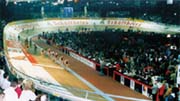 Attracting some of the best speed cyclists in the world, the Berlin 6 Day Race is one of the highlights in the Berlin year. A fixture in the sporting calendar since 1909, this six day spectacle of pedal power annually attracts around 70,000 people. A concept which started in 19th century Britain, the six day race didn't take off until the idea had been developed in America. Berlin's version was not only the first in Europe but has become the most successful in the world. On each of the six days the Velodrom plays host to a different event, which starts at around 6pm and goes on until the early hours (except family Sunday when the programme runs from 11am to 5pm).



Long Night of the Museums
(Twice annually. Next Long Night: Feb 2nd, 2002)
map:


"The long night" is becoming something of a cult event for people who don't look good enough in lycra to go to the love parade. Twice a year over 90 musuems open their doors until 2.00am and the public comes in droves. Along with their usual exhibitions the museums put on special events and entertainment for punters who often face long waits to get into highlight venues such as the Pergamon .


Viktor Pivovarov: Philemon - Russian Avantgarde
ifa gallery (Oct 26 - Dec 23, 2001)
www.ifa.de
Linienstrasse 139/140, 10115 Berlin - Mitte | Tel: 2844111, Fax: 2823331 | U6 Oranienburger Tor | open: Tuesdays- Sundays 14-19h | Entry: free
map:


The first installment of the exhibition series "Focus Middle East" at the ifa gallery is "Re-thinking", a collection of recent art from young Israeli artists. Made up of various media, from video to tradional landscapes, the exhibition addresses the many questions and emotions thrown up not only by the Israeli/Palestinian problem but also by inner-Israeli conflicts. A follow-up exhibition of new Palestinian art, named "So near and yet so far away", is due to start on March 3rd.



Falco meets Amadeus (until 3rd Feb, 2002)
map:


Back at the Theater des Westens for a second run, the hit musical "Falco meets Amadeus" is set around a fantasy meeting of Mozart and Austrian eighties pop figure Falco. Accredited with being the "inventive genius behind the origins of German language Rap music" it is somehow believed that Falco's life in some way mirrored that of Vienna's undoubtedly more celebrated musical force (who was the subject matter of Falco's best selling hit "Rock Me, Amadeus") in a downward rock and roll spiral of drugs, false friends and willing women. Falco died in 1998 at the age of forty after a car crash in the Dominican Republic.
In the up-tempo musical itself, you can expect dance scenes, 13 of Falco's hits and the music of Mozart played live. Don't expect the language barrier to spoil your enjoyment of a typically Berlin show which is more about enthusiasm and effects than sensible narrative.


transmediale.02 [go public!] (Feb 5th-10th, 2002)
www.transmediale.de
info@transmediale.de
John-Foster-Dulles-Allee 10, 10557 Berlin - Tiergarten | Tel: 397870, Fax: 394 8679 | S+U Alexanderplatz, U2 Klosterstrasse | Main venue: Haus der Kulturen der Welt | Festival hours: Feb 5th 19:00 (opening), Feb 6th-10th 10am-midnight | Exhibition hours: Feb 5th 19:00 (opening), Feb 6th-10th 10am-8pm, Feb 11th-24th 11am-6pm | Prices vary, exhibition - 5/3 Euro, festival pass - 100/75 Euro, Media lounge & salon - free | Ticket reservations: 39787175
map:


The digital revolution - does anyone know exactly what it's given us? Easier access to information? ...Granted, but do we really want to know what Darren Matchett has been up to since he left school? Better communication? ...In a sense, but the pubs weren't any emptier before Generation Mobile. More freedom? ...Have you checked your e-mails recently? Someone might have left an important message for you.
But, while more and more of us find ourselves hanging on the every bleep, flash and (if you're lucky) oscillation of our new-found best friends, there's baddies out there. Thankfully thesedays, characteristics of every mobile phone call and e-mail can be recorded, stored and reproduced at a later date and, with third generation phones, a call can establish your when- and whereabouts to within a radius of 10 yards.
Anyway, about this international media art festival... one of the biggest in the world, it started out as a video arts festival and grew from there. This time round, the forums, workshops, video screenings, clubs and other things will be focusing on "the role of digital technologies in present-day society" and "artistic and critical reflection" thereon. Artistic reflection? The mind boggles. Well, something like that.
The transmediale website will provide you with the exact times, co-ordinates and intentions of the events.


mural-global
Galerie Ngano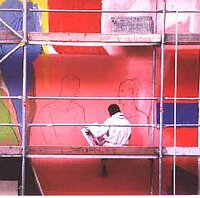 Since September 2000 the Berlin mural of the world-wide Agenda21 project mural-global can be admired in the courtyard of Galerie Ngano on Gipsstraße. Love, Desire, Ideal and Vision is a "monumental picture for love" by St Petersburg artist Renat Islamov.
For a first glimpse go to ngano online .
mural-global is an initiative by Farbfieber under the auspices of UNESCO. In the wake of the 1992 Rio conference launching Agenda 21 many projects were initiated across the world to promote sustainable development and better understanding and exchange between north and south.
For more info see mural-global




top of page

© 1999-2011 Berlin Information Group

anything missing or wrong?