Classical Music

Cultural Institutions

Galleries

Museums+Collections

Opera

Shows&Exhibitions

Architecture & Planning

Annual events




The necessity of renovating and rebuilding parts of the city after the fall of the wall has given Berlin the opportunity to remodel itself. Over the past ten years reconstruction, planning, architecture and even the building process has become part of the city's culture. Starting with the no longer existing Infobox overlooking Potsdamer Platz , for years a huge construction site, the city government has pursued a number of projects which turn the city itself into an exhibition. Following on from the past few years, during the summer months the city is turned into a Schaustelle (a conflation of the German words show and building site). Events and information accompany the presentation of newly finished buildings, such as the Chancellor's office (Kanzleramt), and the ongoing process of building the 'new capital'.



Berlin: Open City (Offene Stadt)
Available in most book shops for € 30, this book guides the reader through ten routes which explore the development of Berlin as an urban centre. A new edition came out in August 2000 and is to be recommended for good architectural history and excellent maps. The tours are of the government quarter, Mitte, Potsdamer Platz to Kreuzberg, Friedrichstadt and the historic core, Spree island and surroundings, the western city centre, the new embassies, Friedrichshain and Prenzlauer Berg.


East Side Gallery


www.east-side-gallery.com

Mühlenstr. , 10243 Berlin - Friedrichshain | S Ostbahnhof/S + U Warschauer Straße | Price: Free. | Times: 24 hours a day.

map: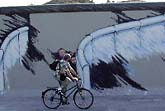 At over a kilometre in length, this is the longest section of wall still standing, and possibly also the longest gallery in the world. Originally painted by over 100 German and international artists shortly after reunification, the harsh Berlin weather and a growing amount of grafitti have taken their toll over the past ten years. Luckily, funding has been made available for the repainting of the gallery, which is currently in progress. Many of the panels have political themes, which have been preserved in the new incarnation.


Berlin Hidden Places
a virtual tour of the less obvious gems of the city



top of page

© 1999-2011 Berlin Information Group

anything missing or wrong?