Classical Music

Cultural Institutions

Galleries

Museums+Collections

Opera

Shows&Exhibitions

Architecture & Planning

Annual events

Art Forum Berlin
International Fair for Contemporary Art
(3 Oct - 7 Oct, 2001)
www.art-forum-berlin.de
egpforum@aol.com
Berlin Messe Center, Messedamm 22, 14055 Berlin - Charlottenburg | Tel: ++49 - 30 - 88 55 16 43/44, Fax: ++49 - 30 - 88 55 16 45 | U2 Kaiserdamm / Bus 149 | Each year in late Sept, early Oct | Daily: Noon-8 pm | Ticket Website is in English - you just have to look hard for the English button in grey on the top of the page.Price: Day Pass: € 20, Students&Evening Pass: € 15
map: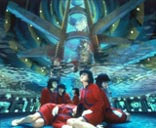 Always dreamt of being an artist, a real artist, a pro-fessional artist? Find out if you have what it takes at art.forum berlin - an overwhelming romp through over 140 galleries from Tokyo, NY, LA, Zurich, Paris, Rome, London, Prague and other wealthy parts of the world, hawking their wares on over 12000 m2 of prime conference center real estate. Come to smell the bullion-stained corsets of the collectors and their perfumed concubines, gigolos and spouse/business partners as they lumber through the padded esplanades aching to unload on a must-have helium inflated floating life raft for their Chamonix hunting villa. OK - its horrible and crass, but its a good shot of reality for anyone interested in art today. What's most important is what sells. Quote of the vernissage: One art dealer chatting to another "Paris is so provincial daarling - just like Düsseldorf - OK it may be pretty - but its so provincial."


Temporäre Gärten
(beginning of July)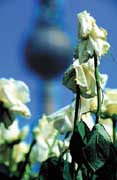 Temporary Gardens is a yearly event by landscape architects producing thoughtful or provocative objects and installations in unexpected places.
This summer it took place in central Neukölln, on Karl-Marx-Strasse where you could find cows tails (plastic ones!) dangling from lamp posts and leafy, quiet back yards just a few steps away from the hustle and bustle of the big city. The ordinary environment of asphalt, dirt and commerce is interspersed with little oases of imagination or green or colour.
The previous events and their projects can be viewed on their website and in their catalogues.
A journey of discoveries!




top of page

© 1999-2011 Berlin Information Group

anything missing or wrong?