by plane

airlines

by bus

by train

Maps

It is most likely that you arrive in Berlin's "largest" airport - Tegel. But don't be surprised, though it is the nation's capital, this is not Frankfurt. You could also arrive at Tempelhof, the airport featured in the recent Jason Bourne films and usually featured in old Cold War films set in Berlin, or Schönefeld, the East Berlin answer to Tegel.



By most international standards, all are tiny, in terms of waiting areas. Though Tempelhof is famous as one of Hitler's longest buildings. But small is beautiful. Tegel for example is astoundingly efficient, stress-free, and easy to negotiate. Just make sure you find the beginning of the taxi line, which is not readily apparent, because if you try and grab any old taxi, you will earn yourself the wrath of all taxi drivers within eyeshot.
Here are the main details:

General information for all airports: Phone 0049 180 5000 186 from outside Germany, or simply 0180 5000 186 inside Germny. This service number has a service fee of 12 Eurocents/min.
If you want to save money on trying to extract details from a country far away, you could try their website.

There is also an information-stand within the airport which is open daily until 11:00pm

To get into town from Tegel you can take a taxi which will set you back €15-20 minimum or use one of the fast and frequent bus services. The 109 or express X9 will take you to Zoologischer Garten ('Zoo' for short - the western central station). From here you can connect by bus, U-Bahn (tube) or S-Bahn (train) to anywhere in the city. Tickets cost €2.10 and are valid for two hours, (ACHTUNG: but only in one direction), for all public transport.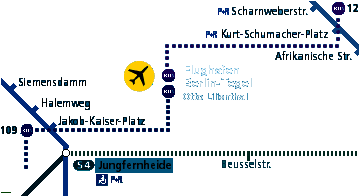 There's a new express bus, the Jetexpress TXL which will take you direct to Potsdamer Platz and Unter den Linden, the eastern centre of town. It costs €2.10 and the ticket is again valid for up to 2 hours for all other public transport too. A day Jetexpress ticket (AB), which is valid until 3am the following morning, will set you back €5.80.
To be on the safe side, just check the most recent fares at the BVG (Berlin Public Transport company) site, click here.

TIP: If arriving outside business hours at Tegel, try and have small denomination banknotes with you. Bus drivers won't change anything bigger than a €20 note!

Lots of flights to and from London Stanstead land and take off at Schönefeld, which is gradually taking over as Berlin's major airport. The train connections are straightforward: the S - bahn runs to and from Ostbahnof, Alexanderplatz, Friedrich Strasse, Zoo and all stations in between - it takes around 45 minutes from Alexanderplatz; the regional Bahn is faster, and runs via Schöneweide in the East, and to the main Stations only. A bus service takes you from the airport to the Station. Tickets on the s-bahn can be bought on the platform - an S - bahn ticket allows entry to the regional Bahn. All services run through the night.

For more information on public transport in Berlin, click here .





top of page

© 1999-2011 Berlin Information Group

anything missing or wrong?