Clubs

Live Music

Venues

Events

Arena
www.arena-berlin.de
Eichenstr. 4 , 12435 Berlin - Treptow | Tel: 533 73 33 , Fax: | U1 Schlesisches Tor, S-Bahn Treptower Park | Photo © Arena
map: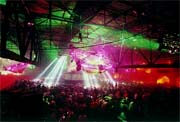 One of Berlin's largest venues for a selection of chart pop and rock acts. The likes of Lauryn Hill, Massive Attack, The Pet Shop Boys and Berlin's own Einstürzende Neubauten have all graced the boards in the past couple of years. Doubles up as a club venue for crowd-pulling DJs such as Paul van Dyk and often houses that inexplicably popular Berlin phenomenon - the 'Depeche Mode party'.
A good 15 mins' walk from the U-Bahn, it is situated on the riverside and has the feel and acoustics of the former hangar that it is. No seating and tight security checks.


Columbiafritz
Columbiadamm 9-11, 10965 Berlin - Tempelhof | Tel: 6981 2828, Fax: | U6 Platz der Luftbrücke |

map:


Columbiafritz is like the Columbiahalle's little brother. It is situated next door for acts which are slightly less mainstream for Berlin, although the likes of Henry Rollins and The The would attract arguably larger crowds in the UK or US. It is cosy and has a bar handily situated near the stage. Standing room only, cloakroom available and the usual deposit system for plastic cups.


Columbiahalle
Columbiadamm 13-21, 10965 Berlin - Tempelhof | Tel: 698 0980, Fax: | U6 Platz der Luftbrücke |

map:


A five-minute walk from Tempelhof airport, this is Berlin's second largest rock, pop and indie music venue. Iggy Pop, Gomez, Beck and Travis are the kind of musical fayre one can delight upon within these walls, usually for around a reasonable € 40-45. The atmosphere is generally laid-back. Gigs tend to kick off quite punctually, so be here for the time it says on your ticket, which it is advisable to purchase in advance. Some seating and a cloakroom if required. Deposits on plastic glasses and tips for loo ladies.


Junction Bar
Gneisenaustr. 18, Berlin - Kreuzberg | Tel: 698 17 421, Fax: no fax | U6+U7 Mehringdamm |

map:


Junction Bar is now quite an established Kreuzberg live music venue which has recently expanded to include a cafe. It hosts gigs by smaller bands, including local bands.
Junction Cafe open 10h-2h
Junction Bar open 20h-5h


Quasimodo
map:


Quasimodo is one of West Berlin's oldest and greatest jazz venues. Small, dark and smokey in the cellar(upstairs is just the cafe) it attracts jazz greats such as Roy Hargrove and also has a regular programme of Berlin based artists like Jocelyn B Smith. Excellent acts play every night throughout February (Black History Month). For a place which prides itself on its roots, Quasimodo is quite open to other styles of music, particularly funk, soul, latin, blues, and rock. If it's jazz on the menu only serious fans need apply, but when other styles prevail things loosen up considerably.


Tränenpalast
www.traenenpalast.de
Reichstagufer 17 , 10117 Berlin - Mitte | Tel: 206 100 11, Fax: | S+U Friedrichstr |
map:


The Tränenpalast, or Palace of Tears, is so named due to its location on the former East / West Berlin border - the site of many a tearful parting before 1989. Generally a jazz and world music venue, it also has folk and pop artists as well as chansons, cabaret and comedy. Salif Keita and Tracey Chapman have both recently appeared here.


Waldbühne
Am Glockenturm , 14053 Berlin - Charlottenburg | S-Bahn Pichelsberg, U2 Olympia-Stadion |

map:


Another pleasant woodland venue for acts like The Rolling Stones and Michael Jackson, and those who are really big in Germany such as Herbert Grönemeyer. Films are screened here in the Summer and it serves as a classical venue as well as hosting those omnipresent 'Oldie' parties.


Wühlheide
Eichgestell 30, 12459 Berlin- Oberschöneweide | S-Bahn Wuhlheide |

map:


A huge outdoor venue nestling in the middle of idyllic woodland to the city's east . The likes of REM have played here, and it often hosts that inexplicably popular Berlin phenomenon - the 'Oldie Party', where the likes of Suzi Quattro, Hot Chocolate and the former GDR's very own Puhdys strut their flared stuff. Quite a way out of the centre, but great for a summer gig.




top of page

© 1999-2011 Berlin Information Group

anything missing or wrong?