Clubs

Kreuzberg

Mitte

Prenzlauer Berg

Schöneberg

Friedrichshain

Live Music

Events




As you climb the steps out of Warschauer Str. S-Bahnhof on to the Warschauer Brücke you are faced by an impressive view of the city centre. There is, however, no reason to head back into Mitte as you are in one of the best areas in town for a night out. If you want to escape the manufactured style of the Mitte café and lounge/club scene and crave a more earthy night out, meeting some real people from Berlin (and possibly some people from Brandenburg), you have a wide selection of venues to try out.





Matrix


www.matrix-berlin.de matrix@matrix-berlin.de

Warschauer Platz 18, 10245 Berlin - Friedrichshain | Tel: 294 91 047 , Fax: 294 91 049 | S+U Warschauer Str. | Times: Fri Æ Sat 23.00 -, Tue, Thu (RockIt) 21.00 - | Entry: up to € 20.

map: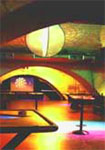 Situated under U-Bhf Warschauer Str, this club prides itself on having some of the best national and international D.J.'s in its line-ups. It appears, though, that the clientele, comprising of mainly the younger end of Generation Youth (some, it has to be admitted, with rather impressive upper lip hair for those so young) have no knowledge of what they are listening to. The venue itself is not typical Berlin; more an adaptation of a British club with all furniture, fixtures and fittings polished and firmly screwed into place. The ceiling is made up of the brick arches of the railway bridge and just about manages to draw your attention away from the bus shelter seats. The dance floor tips its cap to the hedonistic house scene with a little podium in the centre and, nearby, a rather dubious looking cage probably removed from a childrens' playground. The whole experience is topped off by drinking your beer from a ridiculously small but extremely heavy glass with a handle. Nevertheless, this club is almost worth a visit as the anthropological study can sometimes make up for the atmosphere. On Tuesdays and Thursdays the club hosts an evening called RockIt which is apparently more popular with students.


Ostgut
www.ostgut.de
Mühlenstraße 26/30, 10243 Berlin - Friedrichshain | S+U Warschauer Str, N29 | (Entrance through Rummelsburger Platz) | Prices: Sat usually € 20.
map:


This place is not for everyone but offers one of the best atmospheres in which to listen to techno. Situated at a goods station/depot, the entrance is marked by a chained-off area outside the door. The most straightforward way to find it is to walk down along the East Side Gallery and wait until you see the sign at Rummelsburger Platz. Inside, an industrial/warehouse theme prevails with metal-framed-upright-shelf structures as seats around the dancefloor, and a bar, on which proudly sits an anvil and sledgehammer. The relatively recent additions of the Panorama Bar upstairs and the garden out the back provide less intense environments in which to lose yourself. The mixed (gay/straight) crowd and relaxed staff give the place a unique atmosphere helped, on most Saturdays, by some excellent techno. (Friday nights cater for those more of the House or Electro ilk.) But, having once offered an authentic alternative to the self-conscious cocktail drinking going on in Mitte, Ostgut has been brought to the attention of a certain element who spend a lot of money on their clothes. One more point.. it is best to check the listings before setting out as the bi-monthly and men only Snax club may be too much of an education for someone´s birthday night out.


Maria am Ostbahnhof
Straße der Pariser Kommune 8-10, 10243 Berlin - Friedrichshain | Tel: 29 00 61 98, Fax: no fax | S-Bahn Ostbahnhof | Times: Depends on events Æ Every Fri & Sat.

map:


In this old Post Office building at the start (or end) of Friedrichshain´s "Clubbing Mile" are held live musical events for the youth who seeks that more progressive sound - usually accompanied with some sort of flickering visuals. In the strangely youth-club-like front bar, relax the kind of people who are, evidently, quite happy to spend half their evening waiting for the stylishly apathetic bar staff to mix a variety of over-priced cocktails. Not quite a place where you´d need your sunglasses but put them in your jacket pocket just in case. From the floor upstairs you can get a nice view of the Fernsehturm ...


DELI
An der Schillingbrücke, Spree Ostufer , 10243 Berlin - Friedrichshain | S-Bahn Ostbahnhof | Nights: Thurs, Fri, Sat - look out for special events on other days | Price: Around DM10 - DM15

map:


Tucked down next to the river in typically neglected looking warehouse space, Deli is rough edged with a warm heart. Walls hangs (upon which video lights are projected) partition the floor space and cover the cold, bare stone walls while old sofas and plastic patio chairs provide much of the resting space around the dancefloor. Increased public profile has (unlike in Ostgut's case) succeeded in erasing some of its cleeky elements and the introduction of the rooms in the basement has given the place more options. Music is often techno-y dance and generally beat driven, whether skipping or pounding. And the warm heart? .. a big log fire with a horn-shaped brass extractor duct surrounded by a circle of sofas which regulars get a bit protective of. Don't be tempted to off-load your warm clothes at the cloakroom, though - the toilets are baltic.


Nontox
Mühlenstrasse 12, 10243 BerlinFriedrchshain | S+U Warschauer Strasse | Tickets: € 10 - 20

map:


The most noticeable indicator that you are in the right place for this concealed venue along the East Side Gallery strip is the gaggle of spiky haired teenagers constantly gathered at the entrance, selling class A substances to anyone who´ll buy. Inside the seedy atmosphere prevails, where the dark cellar rooms provide a perfect techno venue between the normal Berlin clubbing hours of midnight and 8am. At this time, when other clubs are turning on main lights to flush out the party goers, Nontox once again becomes full. The club stays open as an after club until 7pm, which may sound perfect if you´re determined to make a bender out of your stay in Berlin, but be prepared to witness messy scenes of underaged kids who have overindulged to the extreme.


Casino
www.casino-bln.com
Mühlenstrasse 26-30, 10243 Berlin - Friedrichshain | S-Bahn Warschauerstr., Ostbahnhof | Price: depends on event but usually around DM20
map:


A good-sized venue on the clubbing stretch by the river, Casino sports the run-down chic so popular with Fredrichshain clubs, although it manages to avoid the dirty ashtray feeling of smaller places like Maria. A main floor on ground level features all kinds of house, techno and hip-hop (depending on the DJ) and manages to draw some bigger names like LTJ Bukem. This also means bigger prices at the door. Upstairs is a much smaller dance floor whose low ceilings give a cosier atmosphere. Throw in two chill-out rooms in the back on the ground floor (with a fountain, no less) and reasonable drinks at the bar and you´ve got yourself quite a party. Follow the flashing lights to find the club from the street.


Insel der Jugend
www.blinx.de/insel
insel@blinx.de
Alt-Treptow 6, 12435 Berlin - Treptow | Tel: 5360 8020, Fax: 5360 8021 | S-Bahn Treptower Park | Further: Walk up-river away from the Allianz tower until you get to the footbridge to the island, on your left (5 minutes)
map:


The 'island of youth´ is in Treptow (which, for the purpose of this entry, is very close indeed to Friedrichshain), just down from the quay where the tour barges leave for Müggelsee and for the city centre. It houses a youth centre and is now a regular dance/concert venue, with film showings and rehearsal rooms for young bands. The crowd is mainly young and vaguely alternative; expect lots of dogs-on-ropes and don´t come dressed for your office job. On Saturday and Sunday afternoons, there are two cafes; a family-friendly one and a terrace chill-out type thing. The island really comes into its own in summer, when the cafe moves outdoors; you can sit in the shade drinking Radler and watching the river flow past. The open-air cinema on summer evenings mainly shows good Hollywood reruns; just don´t forget your mosquito repellent or you´ll be eaten alive, at least if you´re a fair-skinned type. Listings in Zitty or Tip, or on the website.




top of page

© 1999-2011 Berlin Information Group

anything missing or wrong?