Sights

Tours

Bus Tours

Walking Tours

Bike Tours

Boat Tours

Speciality Tours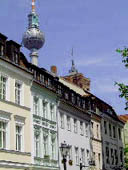 If you come to Berlin planning to do the sights - prepare to be disappointed. When it comes to urban beauty, the city is in a different realm to Paris or London - a grottier and more fractured realm. More so than other major European cities Berlin´s history is characterised by cycles of destruction and renewal.

This doesn´t mean that a tour is not worth while. A tour is a quick way to get your bearings in a city the size of Berlin and a good tour will also offer an overview of the history which makes Berlin the fascinating metropolis that it is.

Our tip: If you´ve got the time and the energy go for the tours by foot or by bike ; they give more of a feel for the city than the standard bus tour .







top of page

© 1999-2011 Berlin Information Group

anything missing or wrong?