Outdoors

Garden colonies

Saunas

Sports

Internet

Volkspark Friedrichshain
Platz der Vereinten Nationen , 10249 Berlin - Friedrichshain | From S+U Alexanderplatz - Tram 5,6,8 or 15 |

map:


Volkspark Friedrichshain is located in eastern Berlin, in the district of Friedrichshain adjacent to the district of Prenzlauer Berg. The boundary of the park is formed by the streets Danziger Straße, Am Friedrichshain, Friedenstraße and Landsberger Allee.

This is a mixed-use park where you are likely to see young and old taking a leisurely stroll. There are also several play areas for children. In the center of the park is a fairly high tree-covered hill with a wide path following a snail-like trail to the top, where you get an interesting view of the city. On the grounds are also an open-air stage for theater, a large public pool for swimming in the summer months, and a sand-filled beach volleyball area with a cafe. Further attractions include a pond, a skateboard/inline-skating area, and an ice-cream cafe.

The park can be entered from any side, although a large area along Danziger Straße is currently closed off for renovation. Bus lines 100, 257, and 142 have stops next to the park, as do the tram lines 5, 6, 8 and 15.


Volkspark Humboldthain
13355 Berlin - Wedding | U+S Gesundbrunnen, S-Bahn Humboldthain |

map:


Bordered by Gustav-Meyer-Allee, Wiesenstraße and Brunnenstraße.

Volkspark Humboldthain is located in the district of Wedding. The park has a rise in the south and one in the north with a sort of valley in between. Again, the main activity here is walking. There are picnic grounds and a big outdoor public swimming pool. What makes this park interesting are the remains of a large World War II bunker on the northern edge. After attempts to demolish the behemoth structure failed, the city decided to turn it into a lookout point. And indeed, you get an impressive view, especially to the north. An unusual safety fence makes sure nobody falls off the bunker, and a monument to German reunification which predates the event resides on the top. Local technical mountain climbers have also converted the northern face of the bunker to a practice climbing wall, which can make for interesting spectating if you happen to catch them in action.


The Botanical Gardens
www.bgbm.fu-berlin.de/BGBM/overview.htm
zebgbm@zedat.fu-berlin.de
Königin-Luise-Str. 6-8, 14191 Berlin - Dahlem | Tel: 83 85 01 00, Fax: 83 85 01 86 | S-Bahn Botanischer Garten | Time: Mon - Sun 9:00 - dusk | Concerts every Friday in Summer at 18:00 | Prices: € 4, Conc. € 2. | Concerts: € 25, Conc. DM18, Family ticket € 60.
map: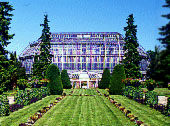 Berlin´s Botanical Gardens offer an attractive landscape of garden beds and open parkland. The 42 hectare site is home to over 18,000 species of plants and includes greenhouse displays of tropical and wetland genera. Because the Gardens demand a small entrance fee they tend to be a quieter alternative to the main public parks which can become hectic on sunny afternoons.

The Gardens also offer a musical programme every Friday evening from June to August. These outdoor concerts feature local and international musicians and are located in a picturesque and sheltered garden between some of the main greenhouses. In case of rain, the concerts are relocated into one of the greenhouses - a pleasant experience in itself - music + tropical greenery + the pitter patter of rain on glass....

For further details regarding concerts, exhibitions and other events held at the Gardens see their website.


Zoo (Zoologischer Garten)
www.zoo-berlin.de
Hardenbergplatz 8, 10787 Berlin - Tiergarten | Tel: 25 40 10 , Fax: no fax | S+U Zoologischer Garten |
map:


The Zoologischer Garten, which was completed in 1841 to the design of Peter Joseph Lenné (who also designed the Tierpark), came into being after zoologist Martin Heinrich Lichtenstein had persuaded Friedrich Wilhelim IV to donating the grounds of his pheasantry. As well as being Germany's oldest zoo, it is also one of the largest and most important zoos in the world. Having had most of its animals killed during bombing raids in WWII, it now has some 14000 residents representing 4000 species with its list of endangered species only bettered in Europe by Antwerp Zoo. Bomber Command's only permittable excuse for landing so many bombs on such a collection of animal exotica would be the chinoiserie roofed "Elephant Gate" entrance on Budapester Str. In any other city centre this piece of inspired architecture would look out of place, but here it manages to compliment the circus-type atmosphere of the area.




top of page

© 1999-2011 Berlin Information Group

anything missing or wrong?