Hamburg

Leipzig

Brandenburg

Budapest

Dresden

Potsdam




"The superfluous is very necessary." Voltaire.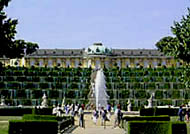 Of course the Prussian kings and emperors didn't need to spend three centuries creating a beautifully harmonious landscape of palaces, parks, hills and lakes for their summer residences, but latter-day seekers of relaxation and beauty will surely agree with their more famous predecessor. If you're in Berlin for more than a couple of days, make sure that Potsdam is on your itinerary. Just over half an hour by train from the centre of Berlin, the former summer residences of the Prussian court are an ideal day trip destination - as many busloads of tourists before you have discovered.



Most of the tourists come for the palaces, of which Sans Souci is only the most famous. Don't worry if all the tours are sold out - the New Palace, Cecilienhof or any of the smaller palaces are just as worthy of a visit, and usually a lot less crowded. Equally charming is the town itself, which owes its jumble of Prussian, French, Dutch and Russian archictecture to the cultural diversity of successive Prussian courts - go for a wander through the back streets to see the marvels of modern German restoration techniques at work.

Eating and drinking establishments a-plenty are located along the main pedestrian street (Brandenburger Straße), or check out the cafe at the Film Museum while catching up on the history of German cinema.

For more information and a comprehensive list of opening times, click here .


Getting there.

Potsdam can be easily reached by train (RE1) or S-Bahn (S7) and is located in zone C - a daily ticket at DM8.50 will get you there and back, and is also valid on all the local trams and buses. Better still, take a bike with you - there's nothing more glorious than a bit of leisurely palace-hopping on a sunny afternoon, and you'll be better able to avoid the tourist crowds.



Filmmuseum Potsdam


Marstall , 14467 Potsdam | Tel: (0331) 710 319, Fax: no fax | Transport: S7 Potsdam Stadt | Times: Tues - Sun 10am - 6pm | Tickets: DM4, € 2 concs.


map:


Situated in the former royal stables, excellent museum documenting the history of German Cinema. Good cinema too, and cafe.




top of page

© 1999-2011 Berlin Information Group

anything missing or wrong?